Ole Lütjens, Chief Creative Officer
Ole has worked at the forefront of emerging technologies since the early '90s. He was a co-founder of the Beta Lounge (betalounge.com) in 1996, one of the first and widely regarded online radio stations and the Director of R&D at the Ponton Media Lab, an early media research group that innovated in the areas of Virtual Reality and Interactive Television. At MX he is responsible for our client relationships and all conceptual development. He oversees the creative team and is driving UX innovation and new design concepts. Ole holds a masters cum laude in publishing media from the University of Fine Arts in Hamburg, Germany.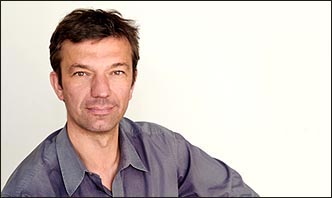 Joe Rice, CTO
Drawing upon a 15 year background in production, post-production, and technology development, Joe provides technical oversight at MX, including supervision of new technology and software development. Representing MX on technical committees of both the DVD Forum (HD DVD) and the Blu-ray Disc Association, he was closely involved in the shaping of both next-gen formats and has co-authored patents on related technology. He provides software engineering for MX's development frameworks and projects including the Netflix PS3™ Blu-ray™ Streaming Disc and the Neil Young Archives and works closely with our partners and customers to create products that realize the fullest potential of modern interactive platforms, including mobile devices, connected TV, and Blu-ray. Joe joined MX at its inception in 2001 and is also a co-founder and board member of RCDb, a leading entertainment technology provider. Joe was previously Director of Research and Development at ednet, an audio and video networking company whose clients include high-end film, video, audio and post-production facilities.