<!a href="">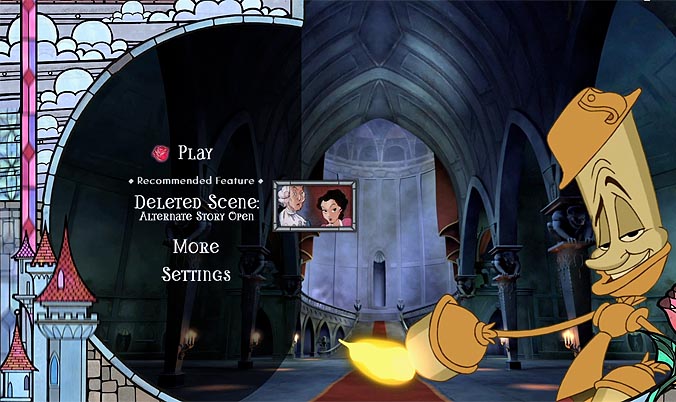 Disney's Beauty and the Beast
---
Delving into the enchanted castle, in all dimensions.
Disney's Diamond Edition Blu-ray releases present their most beloved films, at the highest quality, with intriguing bonus content. For Beauty and the Beast, MX re-created the Beast's castle in 3D, designed an immersive menu experience, implemented an interactive behind-the-scenes exploration, and designed and developed two games.
Disney puts the utmost care into their Diamond Edition releases, taking the opportunity to pull out all the stops in providing enhanced content, from deleted scenes and behind-the-scenes features for Disneyphiles to family-friendly games. MX was involved in much of the bonus content on this release, with one of the most exciting aspects being the opportunity to create animated 3D renderings of the Beast's castle for the menus and the Enchanted Musical Challenge game. Our motion graphics team was thrilled with the opportunity.
Another highlight of this release is the Beyond Beauty interactive documentary, which leverages advanced use of multi-angle and BD-J to provide hours of 'choose your own adventure' style exploration of the making of the movie.
MX also provided creative design and programming for the musical challenge trivia game and Bonjour, Who Is This?, which pits multiple
"[A] Must Own for any Blu-ray™ collection."
players against each other using their phones to input answers, avoiding the need to pass the remote around. This game relies on BD-Live™ technology, and we were able to easily integrate the needed server communication into our GrinXML framework used for all BD-J development. GrinXML made for easy work of the localization requirements for this title, which was released in several versions and dozens of languages worldwide.