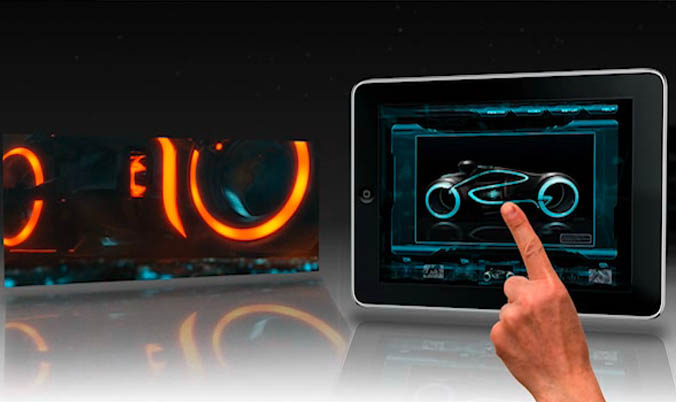 Second Screen
---
Synchronized movie companion apps for mobile and web
Second screen is a new way of experiencing movie-related interactive content on mobile devices and computers while watching a film or television program. Content including original artwork, storyboards, and movies appear in sync with the film alongside mini-games, social media integration and other interactive modules. MX designs and develops the experience and technical framework for these next-generation apps for iOS, Adobe® Flash®, and Android™ devices.
"Second screen" is one of the hot tech categories of the moment. Research shows that over 80%[1][2] of the home audience (92% of 13-24 year-olds[1]) splits their attention between the television and a device, with over 40% of all tablet and smartphone owners using their devices while watching at home[3].
Many second screen products are focused on building marketing value and enhancing social experiences, with lightweight ancillary content. MX co-developed Disney Second Screen, where a more content-oriented approach was called for.
MX has collaborated with Disney on a number of complex interactive Blu-ray bonus features, from elaborate interactive documentaries to arcade-style games to the visual commentary of Cine-Explore. Disney has such a rich heritage and fascinating archive of material that there's never a shortage of material to present. The material brings an enhanced appreciation of the movies and stories, both those new to the stories and those for whom the movies have become timeless favorites.
With the popularity of tablets, and the iPad® in particular, MX took on the challenge of honing and developing a sort of visual and interactive concordance to Disney's films. Leveraging the technology available, viewers are able to engage
[1] Yahoo! Advertising Solutions
[2] Razorfish Outlook report Vol 10
[3] Nielsen Wire
with the material more naturally, touching and playing with it, without the intermediation of the remote control. Second screen provides the option of a lean back experience, where the content automatically follows the movie, in sync throughout. Control of the BD player is provided via BD-Live™, making it easy to pause the movie to explore second screen content interactively.
"MX created a robust and flexible framework to allow for rapid development of these richly interactive apps."
The Disney Second Screen apps are incredibly rich. On their own, they provide an unparalleled look at the creative process behind Disney's movies, and in sync, they provide additional context and ways of enjoying and appreciating what's playing. They include thousands of images, videos, and interactive games and activities such as Scene Scrambler, Ink & Paint, panoramas, flipbooks, galleries, trivia, etc. Social media is well-integrated, with check-ins, likes, and status updates, along with a reward engine, allowing for additional content to be unlocked as users engage with the app. Detailed analytics are also supported.
MX created a robust and flexible framework for rapid development of these richly interactive apps. Source graphics and videos can be deployed natively to all supported platforms using automation tools. The framework is architected in a modular manner – when a new module is created, it's easily re-used by subsequent apps.
We invite you to spend some time with these free apps, on either iPad® or Adobe® Flash®. Get them by visiting the Disney Second Screen website.
Special thanks for getting MX involved in this exciting product goes to the team at Walt Disney Studios Distribution. For more information on Disney's Second Screen products go to:
Real Steel
Second Screen feature for the Dreamworks release
Real Steel
.