<!a href="">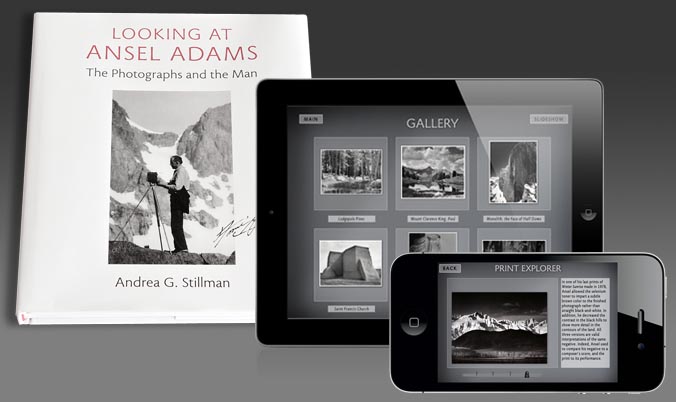 Looking at Ansel Adams: The Photographs and the Man
---
An app with stunning Retina quality photos and compelling interactivity
Ansel Adams was the most honored American photographer of the twentieth century and among the most successfully published artists of all time. MX, in partnership with The Ansel Adams Trust and Little, Brown and Company, created a companion app to the gorgeous new hardcover book by Andrea G. Stillman, Looking at Ansel Adams: The Photographs and the Man. This innovative app provides an insightful look at the man behind some of the most beloved photographs made in the twentieth century, including Moonrise, Hernandez, Clearing Winter Storm, and Moon and Half Dome.
The app brings you closer to the photographer than ever before, with exclusive content, narration by author Andrea Stillman, and interactive features exploring Ansel's process and vision. Created in close collaboration with The Ansel Adams Trust and Ansel's expert colleagues, the app will enable you to visualize the American wilderness through "Anselian" eyes.
The companion app includes groundbreaking features like the Print Explorer, offering interactive presentations of Ansel's evolving vision in the darkroom and the Location Explorer, providing geographic context to Ansel's photographic vantage points, plus additional letters, postcards, and movies.
A free app includes material augmenting three of the book's chapters. The complete app—available for purchase—both complements the book and stands on its own as a rich compendium exploring Ansel's life and work.
Together, the book and app will provide unique insight into the life and work of Ansel Adams—fine photographic reproduction on the printed page, which he championed throughout his lifetime, and the cutting-edge technology that he surely would have embraced were he alive today.
"I eagerly await new concepts and processes. I believe that the electronic image will be the next major advance. Such systems will have their own inherent and inescapable structural characteristics, and the artist and functional practitioner will again strive to comprehend and control them."
- Ansel Adams, The Negative
MX worked closely with The Ansel Adams Trust, Andrea Stillman, and Little, Brown and Company to ensure historical accuracy and overall quality. Ansel's assistant John Sexton participated as a technical consultant. MX arranged a private photo session in Ansel's Carmel, CA, home and recorded Andrea Stillman reading from her book to give the app depth and personal feel.
"I find both the quality and quantity of content provided in the app amazing. Ansel's photographs look fantastic on both the iPad and iPhone."
- John Sexton
Special Thanks to Andrea Stillman, Bill Turnage and Tish Rosales at The Ansel Adams Trust, John Sexton, Thomas Palmer, The Center for Creative Photography at the University of Arizona, and the team at Little, Brown and Company.

Get the app
Compatible with iPad®, iPhone®, and iPod touch®
More Ansel Adams books