<!a href="">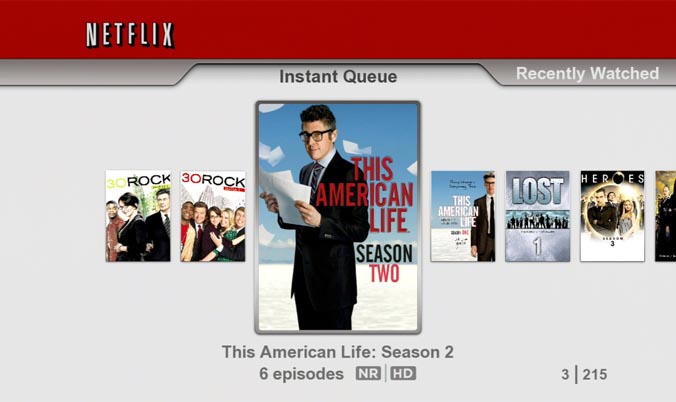 Netflix
---
Streaming video to Sony PS3™ using BD-Live™
As a stopgap to the development of a native PlayStation®3 based streaming solution, Netflix partnered with RCDb and MX in 2009 to create a disc-based solution that enabled PS3™ owners to stream HD video to their consoles utilizing the BD-Live capabilities of the platform. Together, Netflix's development team, RCDb and MX drew on our combined strengths in BD-Live development and BD-Java UI programming to take on the interesting challenges; given the particular constraints of Blu-ray™ devices from a performance and security perspective.
Netflix's transformation into a leading OTT (over-the-top) streaming content provider has been predicated on availability in the living room, with Netflix-ready devices such as BD players, set top boxes (think Roku and Apple TV®), game consoles, and connected TVs providing simple paths for streamed content delivery to the home theater.
In 2009, Netflix was available on the Xbox 360 and several other devices, but the Sony PS3™ game console, which was the heart of many a home theater setup, had no Netflix implementation, and a native client wasn't possible at that time. Blu-ray's BD-Live network capabilities, while not designed for streaming, provided a compelling option for creating a PS3™-compatible streaming client as a stopgap until a native client was in place.
The way that Blu-ray accomplishes streaming (using progressive playlists) is complex, requiring
significant sophistication in encoding and content preparation to ensure a seamless playback experience. On top of that, copy protection for Blu-ray is based on AACS, which adds another layer of complexity. MX worked with RCDb, who provided underlying BD-Live networking technology, to provide expertise to Netflix around Blu-ray constraints and requirements.
"Despite the particular constraints of Blu-ray, we were confident an experience identical to an embedded client was possible."
MX, working in conjunction with Netflix and RCDb developers, implemented Netflix's standard streaming UI in BD-J, using our GrinXML framework. Netflix licensed the framework and
its developers were able to quickly come up to speed on it in order to make changes and improvements after the BD-Live streaming service launched.
Despite the particular constraints of Blu-ray, we were confident an experience identical to an embedded client was possible. That proved to be the case, and ultimately it shipped on time and was used by hundreds of thousands of Netflix customers. It was a bittersweet day when the BD-Live services went offline after the PS3™ native implementation became available, but the experience of working hand-in-hand with the exceptional development team at Netflix inculcated valuable habits and processes that continue to shape our development efforts today.