<!a href="">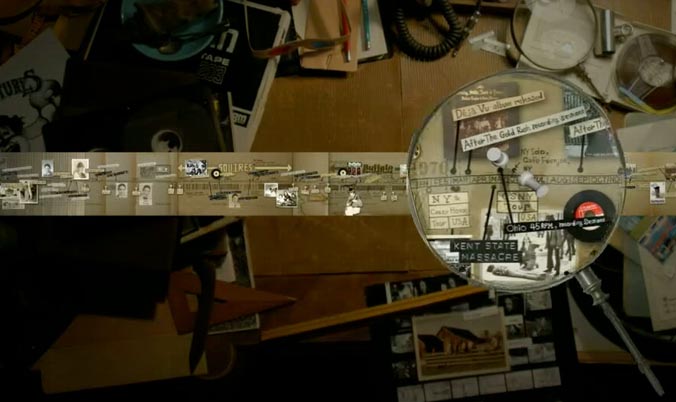 Neil Young Archives Vol.1
---
The mother of all box sets
Neil Young worked on his archive for over 20 years, waiting for technology to catch up to his vision of the listener being able to browse memorabilia while experiencing audio at the highest possible quality. Neil and his producer Larry "L.A." Johnson came to MX in late 2006, and over the next two years we worked together to make the vision reality. MX authored and programmed the 10 disc box set designed by Toshi Onuki. This impressive compendium comprises 144 songs in 192kHz/24 bit uncompressed LPCM audio, over 2000 related documents, a detailed interactive timeline and additional exclusive content produced by Neil himself provided to the discs via BD-Live™.
It's not often one gets the opportunity to work with a visionary like Neil Young. It became clear to us early on what a special project this was, and how well the capabilities of Blu-ray™ dovetailed with Neil's vision. We also realized we were going to be pushing the boundaries of what was possible with Blu-ray right at the format's inception, creating a product that had few, if any, predecessors in any format.
Neil took the stage at the Java One developer conference in 2008 to announce the project, noting in particular the 192kHz/24-bit audio capability of Blu-ray, the interactive capabilities Java brings, and the ability to truly appreciate archival documents when presented in high definition. An audiophile's audiophile, Neil considers vinyl as the ne plus ultra of sonic reproduction, and 192kHz/24-bit is as close as you can get in the digital realm. All of the songs on the archive discs were carefully prepared from the analog masters in 192/24.
Bringing the archive's rich designs and interactive elements to life was an extremely fulfilling challenge. With over 2000 photos, articles, handwritten notes, and other documents to browse while listening to uninterrupted audio, we developed new tools to enable us to readily present the content and produce all 10 discs on a reasonable schedule. This was a project that couldn't have existed without the robust and reliable GrinXML framework and related tools allowing parallelized development, with shared code between discs.
"[I]t's a digital love letter to Neil Young fans, one that's wholly worth the wait in ways heretofore only imagined."
Over two years later, it's still state-of-the-art, with unexpected pleasures to be found each time its viewed. It's also up-to-date, with a well-integrated BD-Live timeline providing updates to the discs. Given all the content in the box set, one wouldn't expect much to be left in the vault, but Neil kept a few tricks up his sleeve, and has provided eight updates (so far!) of classic performances and other rarities since release. (Who knew he was once in a band with Rick James? Super freaky!)
Special thanks to Larry "L.A." Johnson, Elliot Roberts, Will Mitchell, and Bernard Shakey.
Order Neil Young Archives: Vol. 1
Sound & Vision: Archives Vol.1 Review
CNET: Neil Young rocks JavaOne